The procession will start from St. Mary of Victories then head down Cedar to 1st Street, through the Archgrounds into downtown and back to St. Mary of Victories.

See the below map of the procession: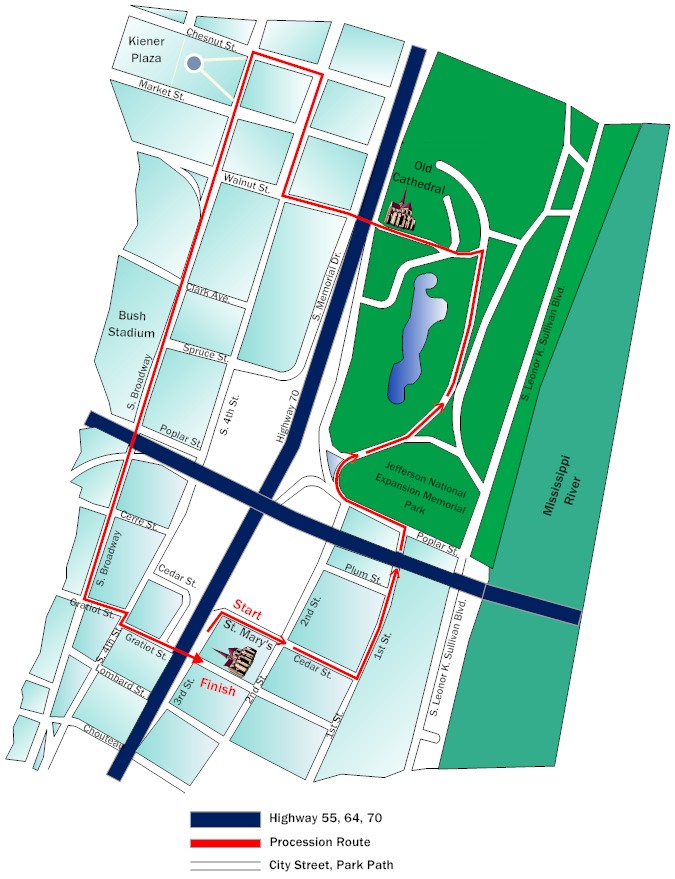 The 15th Annual Good Friday Way of the Cross will be held this year on April 19. The procession starts at St. Mary of Victories Church in St. Louis t0 the Old Cathedral, then process to Kiener Plaza and back to St. Mary's via Broadway.
The event will begin and end at St Mary of Victories. The procession will start following a reading of the Divine Office. The first two stations will be prayed in the Church building. From there we will process out of St. Mary's Church to the courtyard where the third station will be prayed.
The procession then leads out of the courtyard down Cedar Street to 1st Street. It heads north to Poplar Street, turns left onto Poplar Street to the southwest entrance of the Jefferson National Expansion Memorial Park, Gateway Arch park. It will wind through the park to the Old Cathedral. From the Old Cathedral, we will head to Kiener Plaza. The 14th station will be read back at St. Mary's Church.