St. Mary of Victories Catholic Church
Saturday Mass Time (Vigil)

7:00 PM - English Ordinary Form ('Novus Ordo') Mass
The Modern Roman Rite in Latin with Gregorian Chant
Sunday Mass Times

9:00 AM - Latin Ordinary Form ('Novus Ordo') Mass
The Modern Roman Rite in Latin with Gregorian Chant and Traditional Options
11:30 AM - English / Hungarian Mass
The Modern Rite in English with a "touch of Hungarian"

Confession 30 Minutes Before Every Mass
Special Liturgy Schedule
All Saints Day - Thursday, November 1 - 7 pm - Latin Novus Ordo


There will be no display of relics this year.



All Souls Day - Friday, November 2 - 7 pm - Tridentine Low Mass (Requiem)

175th Anniversary Mass with Archbishop Carlson
Sunday, November 4 - 11 am
Reception To Follow - This is the ONLY Mass at SMV on Nov 4.



More Information About Our Liturgies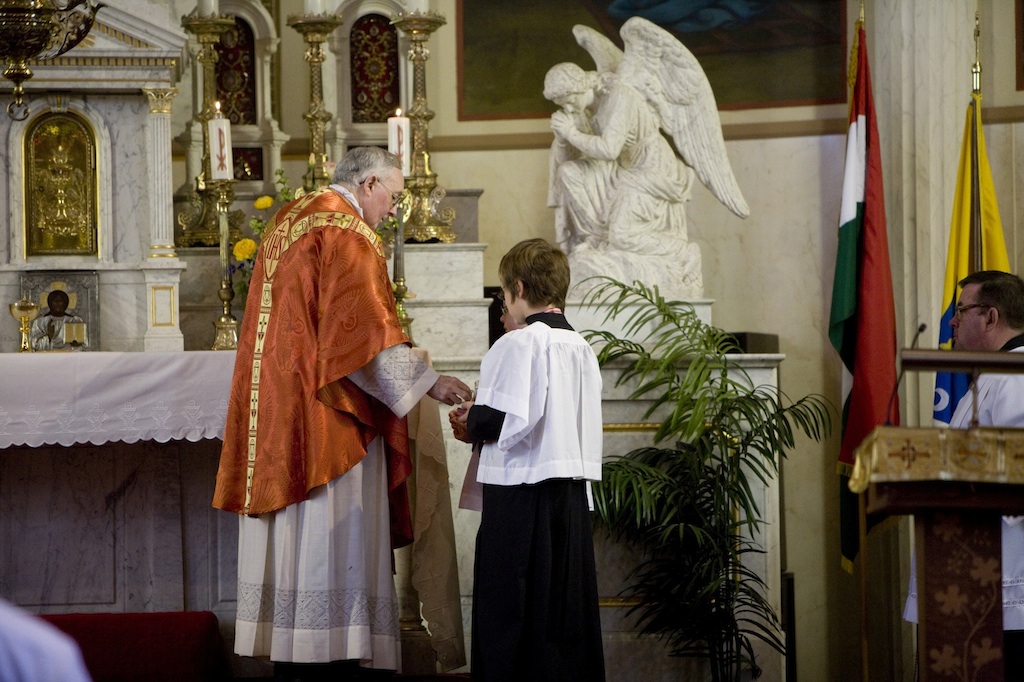 Liturgies at St. Mary of Victories are reverent, faithful, and welcoming. You are always welcome at St. Mary of Victories.
Our 9:00 AM Sunday Mass is celebrated in Latin according to the current (3rd typical edition) Missale Romanum, aka the 'Novus Ordo' or Mass of Vatican II. The Mass is celebrated ad orientem (facing the high altar), with Gregorian chant propers and Ordinary from the current (1974) edition of the Graduale Romanum, and readings and Prayer of the Faithful in English.
A coffee hour follows in the parish hall. More information on the music for a given Sunday may be found in our Gregorian Chant section.
Our 11:00 AM Sunday Mass is celebrated facing the people in English. The second reading is in Hungarian (English translation provided in the hymnal), as are the last two hymns. St. Mary of Victories has been the spiritual home to the St. Stephen of Hungary Parish Community since 1957. People of all backgrounds are welcome and travel from all over the St. Louis Metro Area to regularly attend.
Hungarian Lunches follow the 11 AM Mass on the Third Sunday of the Month