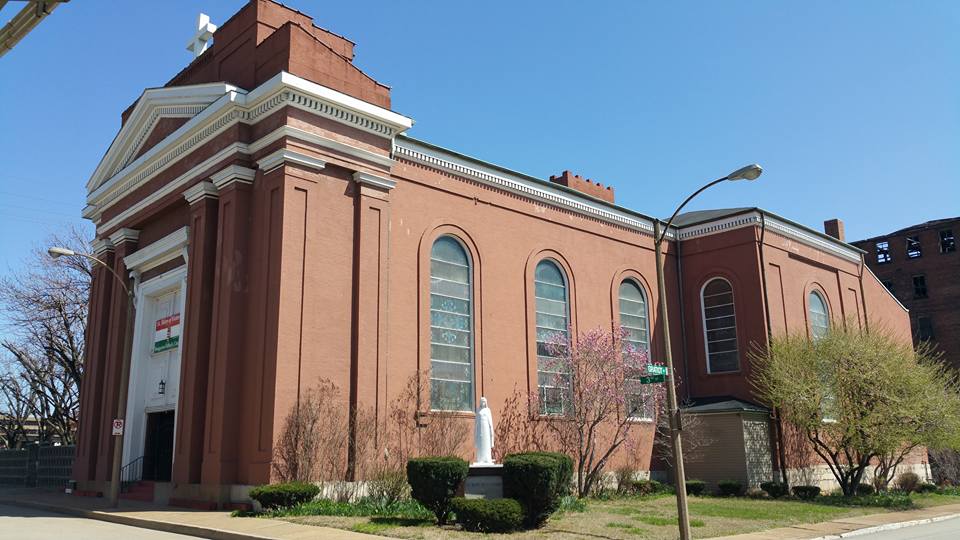 Our Address...
744 South Third Street (Gratiot and 3rd)
St. Louis, MO 63102

For alternative hotels in St. Louis, check HotelsCombined.
Directions to St. Mary of Victories
From South St. Louis City and County

Take Interstate 55 (I-44) North to the Seventh Street Exit
Exit and Turn Right on Park
Cross Seventh Street and Make a Left (North) on Broadway
Take a Right (East) on Chouteau (across from Rally's
Go under the viaduct
Turn Left (North) on 3rd Street
St. Mary's will be two blocks north on the right.
Park in the enclosed parking or on the street.
From North St. Louis County

Take I-70/I-44 to Downtown
Continue South on I-44 through Downtown
Continue South past the Poplar Street Bridge
Exit at the 7th Street Exit
At the bottom of ramp, turn left (east) on Park Avenue
Cross 7th Street, turn left (north) on Broadway
Make a Right (East) on Chouteau (East of Rally's and Taco Bell)
Go under the viaduct.
Turn Left (North) on 3rd Street
St. Mary's will be two blocks north on the right.
Park in the enclosed parking or on the street

From West St. Louis City / County

Take U.S. 40 / I-64 East
Exit at 14th Street Exit
Turn Right (South)
Continue on 14th Street to Chouteau
Turn Left (East)
Continue on Chouteau, Crossing Broadway
Go under the viaduct (I-55)
Turn Left (North) on 3rd Street
St. Mary's will be two blocks north on the right.
Park in the enclosed parking or on the street
From Illinois

Take U.S. 40 / I-64 West Over Poplar Street Bridg
Take I-44 Offramp - Go West / South
Exit at the 7th Street Exit
At the bottom of ramp, turn left (east) on Park Avenue
Cross 7th Street, turn left (north) on Broadway
Make a Right (East) on Chouteau (across from Rally's)
Go under the viaduct.
Turn Left (North) on 3rd Street
St. Mary's will be two blocks north on the right.
Park in the enclosed parking or on the street