15th Annual Good Friday Via Crucis!
Date: Good Friday, March 30, 2018 at 12:00 p.m.
Location:

St. Mary of Victories Catholic Church - 744 South 3rd Street
(take Chouteau East to 3rd, then go North 2 blocks).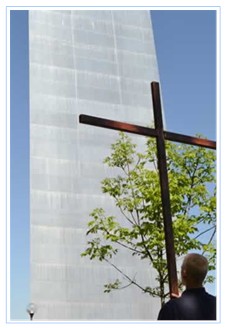 St. Mary of Victories and the St. Louis community of Communion and Liberation have been hosting the Good Friday Way of the Cross for fifteen years. The tradition continues this year with the 15th annual Way of the Cross through downtown St. Louis. We offer our prayer up for the poor and homeless of St. Louis, especially those in the Chouteau's Landing area.
We will begin the Way of the Cross at 12:00 p.m. with mid-day prayer and readings in St. Mary's church followed by a procession from St. Mary's courtyard to the southwest entrance of the Gateway Arch Park - Jefferson National Expansion Memorial Park, to the Old Cathedral, then we will process silently to Kiener Plaza and back to St. Mary's via Broadway. The 14th station will be prayed outside the St. Marys. St. Mary of Victories will have a 3:00 passion service.
St. Mary of Victories is located on the east side of the I-55 overpass. It has a gated parking lot for parking and some on-street parking is available. The Church can be difficult to locate. Detailed directions can be found by clicking "Directions & Google Map" in the left side menu and a map of the procession route. We have changed the route a bit with a detour to Kiener Plaza then back to St. Mary's via Broadway.